Apple just announced iOS 12 at the very start of WWDC 2018, wasting no time. It'll focus on reliability and performance with this update and support all of the same phones and tablets that iOS 11 worked with. That means phones that run the 64-bit chipset, first introduced with the iPhone 5S and newer will get iOS 12. It's the broadest support for a software update Apple has ever had.
The first big feature Apple is betting on is an expanded focus on AR with ARKit 2.0. The company has created a new file type called USDZ. Apple worked on the file type with Pixar, and Adobe is supporting it, too.
'Measure' it getting its own AR app, Apple announced today. It uses the iPhones and iPads's advanced sensors to measure anything in front of you, including suitcases, as shown in the first iOS 12 demo. All it takes it just tap and drag along the edges of the object on the screen. It can automatically detect measurements of a photo, too. We can imagine that helps when you go to buy a frame for a photo and can't find the tap measure.
ARKit 2.0 opens up AR to hundreds of millions of users, according to Apple, and that makes iOS 12 the broadest AR platform in the world. We got a taste of AR last year, but Apple is bringing more advanced tools and gameplay with the update.
Multi-user virtual environments are coming to ARKit, allowing for multiplayer gaming and experiences through iPhones and iPads. iOS 12 is going to create a more collaborative (and competitive) way of experiencing AR. Companies including LEGO say that they're on "creative play possibilities." LEGO showed off up to four players involved in building up an AR town.
Photos is the next big iOS 12 feature that Apple is showing off, expanding search in an effort to compete with Google. Photos can index over 4 million events, and even search for multiple search terms. A new tab "For you" is coming to the iOS 12 Photos app, filled with personalized suggestions on how to improve and share your pictures. Sharing has gotten smarter, letting you share at full resolution and suggesting who to share these photos with.
Share back suggestions is a neat feature that lets you send photos to a friend, and it uses machine learning to poke them to send photos they took to you. iOS 12's photos sharing uses iMessages and therefore includes end-to-end encryption.
Siri is getting smarter. It'll know "I lost my keys" means to ring your Tile tracker. Tile is a handy gadget, but getting to the app is a pain. Having Siri integrated is a game changer for both Tile and our peace of mind.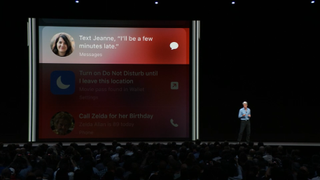 Siri is going to be filled with shortcuts, so much so that Apple is creating a shortcuts app for iOS 12. It'll suggest coffee orders from the place you always order from, meeting contacts to tell them you are running late, and Kayak-based flight information you can call up via voice. By pressing the add to Siri button, you can then say "Travel plans" and Siri will read back information like your hotel address.
Apps are indeed getting updates with iOS 12, starting with Apple News. There's a new Browse tab and a sidebar for better navigation. Stocks is finally being rebuilt with a helpful news design, complete with charts and Apple news headline integrated into into stocks. The top stories will be business news curated by Apple News editors.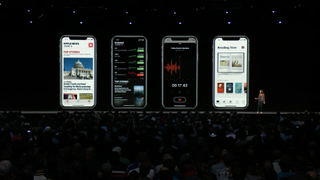 Voice memos is coming to iPad, and it'll also get iCloud support, long overdue changes. It'll also have a better design.
Apple Books is the new name for iBooks, allowing you to pick up reading where you left off and a new store to browse buy e-books and audio books.
CarPlay is going to support third-party applications, with Waze and Google Maps appearing on-screen. Apple didn't call out the Google-owned apps by name, but they were there on the screen.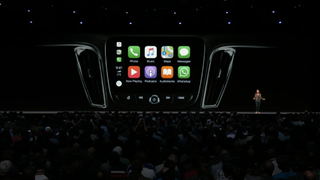 Apple is expanding its Do Not Disturb capabilities with a cleaner Do Not Disturb during Bedtime setting. It'll silence not just 
Deliver Quietly. You can either send notifications to Notifications Center or turn them off entirely. Siri will also suggest turning off notifications for apps you no longer use.
Grouped notifications are coming to iOS 12, Apple announced at WWDC 2018. That's an important update that everyone was waiting for. It got a lot of cheers in the venue.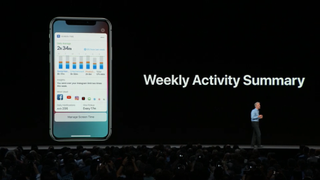 Screen time is Apple's take on limiting your iPhone use. How much time you're spending on apps, which apps you use the most and which apps are sending you the most notifications. TO get a little extra help, Apple has created app limits. You can set your own limit, with a notification letting you know time is almost up. A 'Time is up" message will display when you've reached your self-imposed-Siri-assisted limit.
Parents can create limits for kids with Allowances, with time-of-day-based downtime controls, category controls and always allowed settings. It uses Family Sharing, so you can manage it all remotely from your parental device – no need to fetch your kids phone to execute on these new iOS 12 controls.
Animoji is expanded, not just with new masks, but with tongue detection, Apple has announced. Ghost Koala, Tiger and T-Rex will be joining the cast of Animoji masks.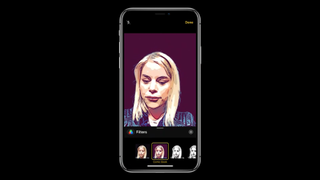 Memoji is a thing, too. It's a customizable mask that can look like you – or the real you, according to Apple. It still resides in Messages. So far you can't use Animoji or Memoji in FaceTime or other apps. You can select hairstyles, eye color and accessories like earrings and sunglasses.
You'll be able to use Memoji along with special effects in video calls, as was rumored.  It's not for FaceTime, but very close.
Group FaceTime is coming to iOS 12 with up to 32 participants, and you go directly from a group chat to a group FaceTime in the Messages app. People can drop in and drop out at any time. The interface is filled with tiles that can expand, and 'the roster' along the bottom for everyone else in the Group FaceTime chat. When people start to speak, their window gets bigger. Even the people in the bottom roster, they appear in the bigger part of the window.
Okay, now Animoji is coming to FaceTime and Group FaceTime. You'll of course need to update to iOS 12 to make that magic happen. It works on iPhone, iPad and Mac, and you can even answer on the Apple Watch with just audio.
That's a wrap for new iOS 12 features at Apple's WWDC. The two biggest highlights were Group notifications and Group FaceTime with Memoji. 
Previous reporting…
Apple also announced that its AR push is getting a custom file called USDZ. It worked on the file type with Pixar, and Adobe is supporting 
Apple's iOS 12 update for your existing iPhone and iPad will be announced today at 10am PT at the company's WWDC 2018 keynote. We're here reporting on it live.
You'll be able to test it early, too, as there will likely be three iOS 12 release dates: one for developers, one for beta testers, and one final version for everyone else.
None of this should surprise you by now. Apple launches its software updates at the same time every year. It'll run through all the iOS 12 changes in about 24 minutes, according to past Apple keynote history.
What should surprise you are the features. iOS 12 has become a big mystery, with Apple reportedly pulling back front-facing features in order to fix iOS 11 problems.
Don't worry, you can still anticipate at least some groundbreaking ideas and design adjustments due to the launch of iPhone X last year and theoretical iPhone X2 and iPhone 9 release date later in 2018.
Apple has a chance to make meaningful changes as it adapts to all-screen displays. Here's our list of what we expect from iOS 12, according to rumors and leaks.
Cut to the chase
What is iOS 12? Apple's next big iPhone and iPad software update 
When is the iOS 12 release date? Announcement next week, June 4 with a subsequent beta,  September launch 
How much will iOS 12 cost? Nothing. iOS 12 will remain free.
iOS 12 release date and beta schedule
The iOS 12 release date is June 4, 2018. At least, that's when we expect to see the changes Apple is making to its mobile software during its WWDC 2018 keynote.
The first developer beta typically launches within the week. Last year, it was at the official close of WWDC, so we may see the iOS 12 beta seeded on June 6. You must be an registered Apple developer to access this beta, and that costs money: $99 for the annual membership.
The iOS 12 public beta typically launches after iOS 12 developer beta 3, and if Apple's history tells us anything, it should be on or around June 26. This beta is free and less problematic with a few more weeks in the cooker.
All iOS 12 beta software will be unfinished software. We advise caution before deciding to install iOS 12 developer beta 1 on your primary device. Waiting for the public beta is safer.
Everyone else can wait for the final version of iOS 12, which is also free, and we anticipate to see in September, alongside new iPhones for 2018. That's how it seems to work every year.
iOS 12 to fix what was wrong with iOS 11
"iOS 12 just works," may be Apple's big message about its next iPhone update, as it's reportedly focusing on reliability and shelving many exciting features.
It's okay to be torn about this news if you were looking forward to iOS 12 with a fresh face. Then again, it's hard to argue with experiencing fewer bug-filled random resets on your iPhone.
Apple's iOS 12 plans are going to be a godsend if you've been experiencing issues with iOS 11 – even the iOS 11.4 update has new, ongoing problems. It's been bad PR for Apple.
Which features won't be in iOS 12?
Apple was reportedly planned, but delayed:
A home screen redesign
Refreshed camera app
Updated Mail app
Refined Photos app
Those may have to wait until iOS 13, if you are to believe the rumors about the Apple teams new mission. It's all in an effort to make iOS 12 stabilization impeccable.
iOS 12 and macOS cross-platform apps
Apple is thought to be bringing first and third-party iOS apps to your Mac, making one of the biggest iOS 12 features for your computer instead of your phone.
It's a long-overdue upgrade. We've always asked: Why can't you control your smart home with the Home app via that all-powerful iMac Pro? You can't do it today. It's a ridiculous notion.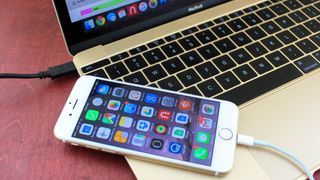 Apple is rumored to be allowing developers to expand their app ecosystem to the forthcoming macOS 10.14 update. Apple's own apps, like Home, are also said to be finally making the jump, according to recent reports.
Don't get too excited. This feature may also be saved for iOS 13 and macOS 11.5 in 2019, says a new report. It's supposedly being worked on, but how quickly it comes to the table may leaving you waiting for a while.
We're giving this one a good shot at being at WWDC on our speculation scale – we're at least expecting Apple to lay the groundwork for such a feature in 2018.
More Animoji (in more places)
Animoji – whether you demanded it or vehemently opposed it, Apple is due to bring more Animoji to iOS 12 for use with the iPhone X Face ID camera. iOS 11.3 just gave us four new Animoji faces to play with, but why stop there?
The navigation of these animated character masks should get easier, too, according to Bloomberg. That's important, because to get better use, they need to break out of their Apple Messages confines, where Animoji are currently buried.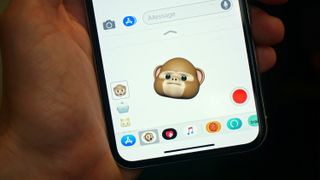 Apple's Animoji character may make two jumps in 2018. First, the natural jump to FaceTime for video chats behind a virtual panda, robot, and poop mask. 
Second to what may be a new iPad Pro 2018 with a TrueDepth camera for Face ID and Animoji. We've seen evidence of an updated iPad recently, beyond the cheap new iPad 2018. But we don't foresee new iPad Pros until later this year.
Way better autocorrect
Maybe we could have lumped this iOS 12 change under fixes, but it deserves its own mention. Everyone wants better autocorrect from the built-in iOS keyboard.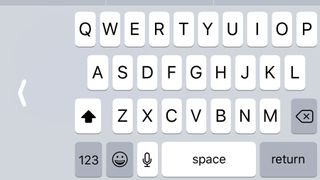 Currently, it can be downright terrible. Why? It may be due to Apple's commendable stance on privacy, with all of the smarts happening on the device itself or masked so that individuals aren't identifiable.
Apple says it's not mining your data like you may find on some Android phones. But we also want a smarter keyboard that doesn't autocap and autocorrect randomly. 
iOS 12 is Apple's perfect opportunity to balance differential privacy with our typings needs. With the focus on reliability this should be near the very top of the list.
Flexible Face ID
Face ID isn't better than Touch ID. There. We said it. It's a neat party trick and makes the iPhone X feel like it's from the future, but we're typing our passcode multiple times a day whenever Face ID fails. That's unacceptable. 
iOS 12 will fix Face ID so that it works when your device in landscape orientation, rather than only in portrait, according to Macotakara's supply chain source. This change should go a long way to fixing our biggest Face ID problems.
We'd also like to see a "try again" button when Face ID fails the first time. Having to put the iPhone X to sleep and wake it up again just to re-engage Face ID is annoying and design nonsense. Apps that use Face ID for passwords, like our banking app, have this "try again" feature. Expect to see this in iOS 12.
The better Face ID is with the iOS 12 update, the sooner we'll forget that we miss the Touch ID fingerprint sensor that's likely to have had its last hurrah in the iPhone 8 and iPhone 8 Plus.
More iOS 12 features we want to see
While nothing is known for sure about iOS 12 yet we have a clear idea of some of the things we want to see, such as the following.
System-wide password manager
We'd also like to see a system-wide password manager built into iOS 12, not just username and password saving in Safari. That's not helpful if you apps on iOS.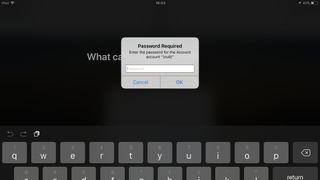 With Face Unlock and Touch ID securing our phones, there's little fear in relying on a password manager on mobile devices. And remembering passwords to so many different apps seems like a wasteful second layer of security.
Always-on display hints?
Look out for tiny always-on display hints in iOS 12, as Apple could easily squeeze this useful feature into the iPhone X2 OLED screen in September. The software may have hidden hooks for an always-on screen in the iOS 12 beta code. 
OLED essentially 'turns off' black parts of the screen in an effort not display the bare minimum without eating up battery life. Phones like the Samsung Galaxy S9, the Google Pixel 2 and even the rumored LG G7 have shown off this idea to great effect.
Apple does have a raise-to-wake feature that's been a big hit among new iPhones. But a true always-on display would help differentiate the iPhone X2 OLED from the rumored iPhone 9 LCD.
New iOS 12 wallpaper
Every new version of iOS seems to get new wallpaper, and we expect iOS 12 to be no different in 2018. It should allow Apple to further exhibit its iPhone X OLED screen.
Specifically, we could see more dynamic wallpapers from Apple. iOS 12 needs more moving backgrounds besides a bunch of moving bubbles in various colors. 
New iOS 12 concept videos show the iconic Earth wallpaper spinning, for example. Right now, that's a flat image, and that doesn't put OLEDs to full use at all.
Grouped notifications
iOS 12 may finally bring a fix to having so many notifications in chronological order. Every morning, our iPhone is littered with so many ungrouped alerts.
Grouping notifications together would make life easier, as long as it's not differently than what we had in iOS 9 with lots of spacing between important alerts. Android Oreo does this nicely, and iOS 12 could easily lift this feature.
We've seen iOS 12 concepts include grouped notifications and also small notification icons on the lockscreen for things like weather and activity ring progress. That would take up less space and provide data at a glance right under the time and date.
Group FaceTime
Speaking of grouped things, we're keen on opening up the FaceTime party to more than just 1:1 chats. iOS 12 should welcome group FaceTime to iPhones and iPads.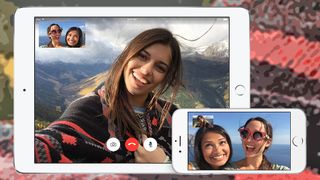 Conference call software, from Hangouts to Skype, can already do this, so it's natural to expect Apple to open up FaceTime to groups eventually. iOS 12 may be it. 
Sound familiar? This was supposed to already be a feature in the current version of iOS, but it didn't actually happen last year. Either that rumor was wrong or was shelved until iOS 12. We'll find out more in June.
Camera controls in the camera app
File this under: Why is this still a problem? Apple's camera app is very barebones compared to its competitions, to the point that you can't change video resolutions within the camera app. It has to be done through Settings > Photo & Camera > Record Video. All of this requires exiting the camera app. That's very unhelpful.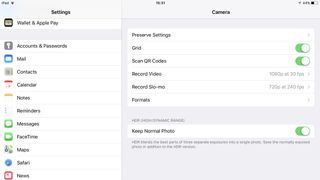 We'd also like to see other settings become easier to use. Android phones do a good job at letting you switch between the rear- and front-facing camera with a swipe up or down on the screen, and the white Timer numbers (3s, 10s) can be hard to see in landscape mode when you're focusing on a subject that's white.
While some app redesigned have been shelved for iOS 13, we're hoping these small tweaks make it into the iOS 12 beta this month.