Feeling hot in this heatwave? You've probably been meaning to pick up a fan in an attempt to cool down, and John Lewis has an extensive selection of all different shapes, sizes and brands for you to choose from.
John Lewis is the best place to buy the two most high-end Dyson fans on the market that are some of the best ways to cool down. These two products from Dyson aren't just about keeping you and your family cool, they do a lot more.
One of the best fans money can buy is the Dyson Pure Cool Advanced Technology Purifying Tower Fan that will cool you down as well as improving the air quality of the space as well.
It'll automatically update its airflow specifically to tackle bad air quality when it's found in your home. It can monitor levels of air pollutants such as PM 2.5, PM 10, VOC and nitrogen dioxide (NO2) too and will immediately start filtering the air to make it as healthy as possible.
If you suffer from allergies, this is a great fan to limit your reactions as it will remove allergens from your home. It uses an activated carbon filter to remove gases and a glass HEPA filter to capture up to 99.95% of microscopic allergens, plus it'll also tackle pollutants as small as 0.1 microns.
Away from home a lot? You can keep an eye on the air quality through the Dyson app on your phone as well, so you can always know your family is breathing in fresh air even when you're not at home.
It's a powerful fan too that can deliver 290 liters of smooth airflow each second. If you want that to make its way around your entire room, you're in luck; it can oscillate up to 350 degrees so your entire room will feel the breeze.
There's a magnetic remote control that sits on top of the fan for when you want to control it in your home, plus you can control it with your voice too if you don't feel like getting up to grab the remote.
Plus if you're trying to sleep in the boiling heat, there's a night mode that means it's quieter and has a dimmer display, so you can be comfortable to sleep through the night.
You can buy this Dyson fan from John Lewis now for £499.99 with free delivery, and the benefits are great including a two-year warranty. If you want to stretch that to five years, you can get John Lewis' Added Care service for only £14.99.
Don't want something as big as this fan? The Dyson Pure Cool Advanced Technology Purifying Desk fan offers all the same technology, specs and features just in a smaller form factor that can sit on a table or desk and won't take up anywhere near as much room.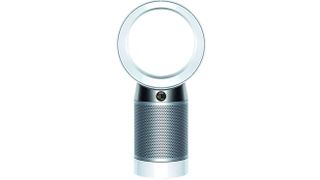 It can also filter the air in your home to improve the quality and has all of the specs of the fan you can see above. It can also oscillate at 350 degrees and despite the smaller design it still comes with the ability to deliver 290 liters of powerful airflow.
This smaller version for your desktop is only £399.99 from John Lewis and once again comes with a two year warranty as well as free delivery to your home or to a store.
Don't think you can stretch for either of these fans or not what you're looking for? Be sure to take a look at the whole range of fans John Lewis has on offer that is sure to provide you with whatever you need to get you through this unbearable heat.
All technology products from John Lewis come with a guarantee for two years, plus you can raise that to five years coverage by spending £14.99 on the Added Care service. Plus if you're spending over £30 you'll be able to get free Click & collect to your nearest John Lewis or Waitrose store, and if you spend over £50 it's free to get it delivered directly to your door.
John Lewis is never knowingly undersold, so you know you'll be getting whatever fan you buy for a fantastic price, and there's only one place that will give you all these benefits. If you need to escape the heat with a fan this summer, John Lewis is the perfect place to get one.